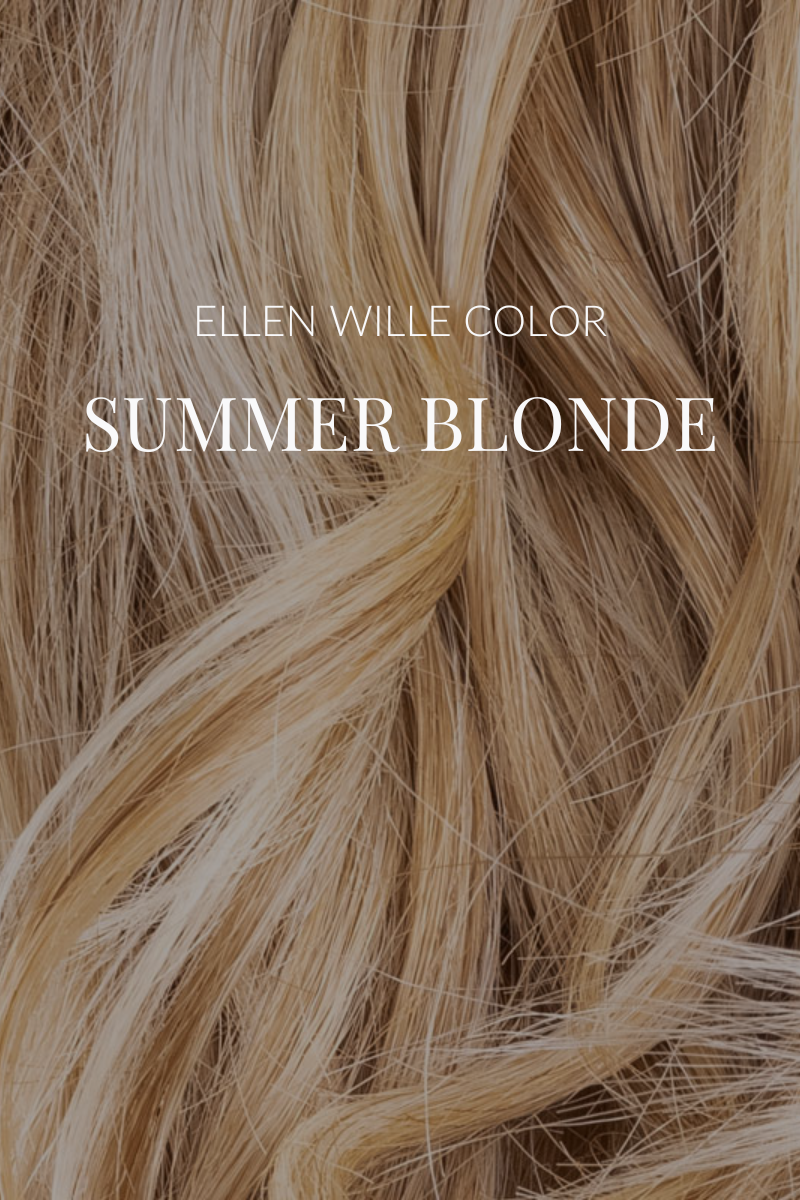 Summer Blonde Wig Colors
Unleash Your Summer Beauty with Ellen Wille's beautiful blonde colors!

When it comes to transforming your look and exuding a radiant summer vibe, there's nothing quite like a blonde wig. Blonde hair has always been associated with sun-kissed warmth and a touch of glamour, making it the perfect choice for the summer season. Why limit yourself to just one shade of blonde when there's an entire spectrum of captivating colors to explore? In this blog, we'll take a journey through the captivating world of different blonde wig colors and discover how they can enhance your summer style. 

Champagne Blonde
Raise your glass to the exquisite elegance of champagne blonde. This sophisticated shade combines delicate golden tones with a touch of platinum. It exudes a refined charm that beautifully complements any skin tone. With its subtle shimmer, champagne blonde creates an ethereal and enchanting look that is perfect for special occasions or every day.

Pearl Blonde
For those seeking a soft and luminous blonde shade, pearl blonde is an excellent choice. This hue captures the iridescent beauty of a pearl, with hints of silver and pale blonde blending seamlessly. Pearl blonde lends an air of grace and serenity, making it an ideal option for a breezy summer day or a romantic moonlit night.

Sandy Blonde
Embrace the carefree spirit of summer with sandy blonde. This sun-kissed shade combines warm golden undertones with hints of light brown, creating a beachy and natural look. Sandy blonde brings to mind the feeling of warm sand between your toes and the gentle caress of ocean breezes. It's a versatile color that effortlessly enhances your summertime glow.

Light Bernstein
For a vibrant and sunlit look, consider light bernstein. This captivating shade blends warm amber and golden hues, reminiscent of a picturesque sunset. Light bernstein adds depth and dimension to your overall appearance, while still exuding a youthful and playful energy. It's an excellent choice for those looking to make a statement and radiate confidence throughout the summer season.

Candy Blonde  
Indulge your sweet tooth with the playful and whimsical candy blonde. This lively shade combines soft pastel hues with light blonde. Candy blonde is a burst of joy and creativity, perfect for those who want to embrace their inner glamour. It's an enchanting choice that will make you feel like you're living in a magical summer wonderland.
Summer is the perfect time to experiment with different blonde wig colors and unleash your inner beauty. Whether you prefer the sophistication of champagne, the luminosity of pearl blonde, the natural allure of sandy blonde, the vibrancy of light bernstein, or the whimsical charm of candy blonde, there's a blonde shade to suit every personality and style.
Embrace the versatility and transformative power of different blonde wig colors, and let them enhance your summer look with elegance, confidence, and undeniable charm. So, go ahead and dive into the vast world of blonde Ellen Wille wig colors—your summer beauty awaits!