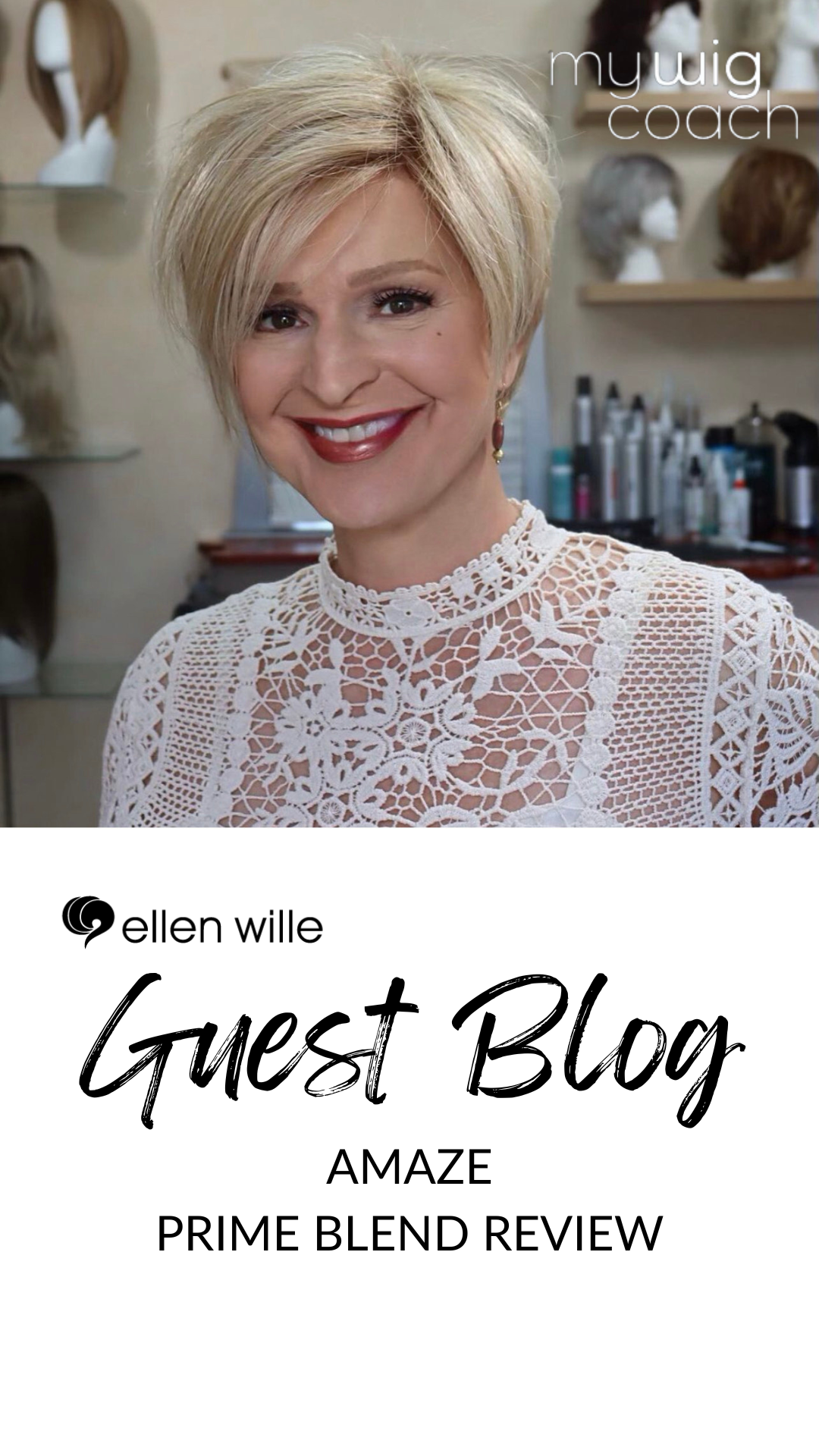 Prime Blends Review by Sherry Schaefer | Ellen Wille Guest Blogger
What's more amazing than having your hair look this fabulous in the 10 seconds it takes to put it on?
With a dash of edge, Ellen Wille's Amaze tells the world you have great confidence and a great sense of style. From the
Prime Power Collection
, Amaze is a 60/40 blend of Heat-Friendly synthetic fiber and fine-quality Human Hair. Put some waves in her with your curling iron set to 270-300F and define them with a dab of styling cream, or flat iron bone straight for yet another look.
This color though! Champagne Rooted (a very soft root, darker blonde) blends 22.16.25. This translates to Light Neutral Blonde (22) predominating, with Medium Blonde (16) and Lightest Golden Blonde (25). Learn more about Ellen Wille's colors by reading the Color Philosophy blog post at 
www.ellenwille.com
.
The super-comfy cap is sized Petite/Average and has an extended lace front to halfway down the ear tabs, has a sheer monofilament top, and is light density. The sides and back are wefted, sewn to a soft stretch mesh which makes the wig more comfortable on a bare head like mine and prevents inversion (the annoying hairs that can come through to the inside).
This is one of those rare styles that can look both polished and professional or effortlessly casual depending on the styling. Gotta love that! Since I'm a licensed stylist, I can trim a shorter bang for you. I wore this style in Silver Blonde Rooted when interviewed during the PBS show "Second Opinion with Joan Lunden" about alopecia areata (watch on
YouTube
). After the show taping finished, she told me how much she loved my wig. Get your Amaze in any of 10 stunning shades at
www.mywigcoach.com
and save 30% when you sign up for Wig Coach Insider.
 This gorgeous style is available at www.mywigcoach.com .