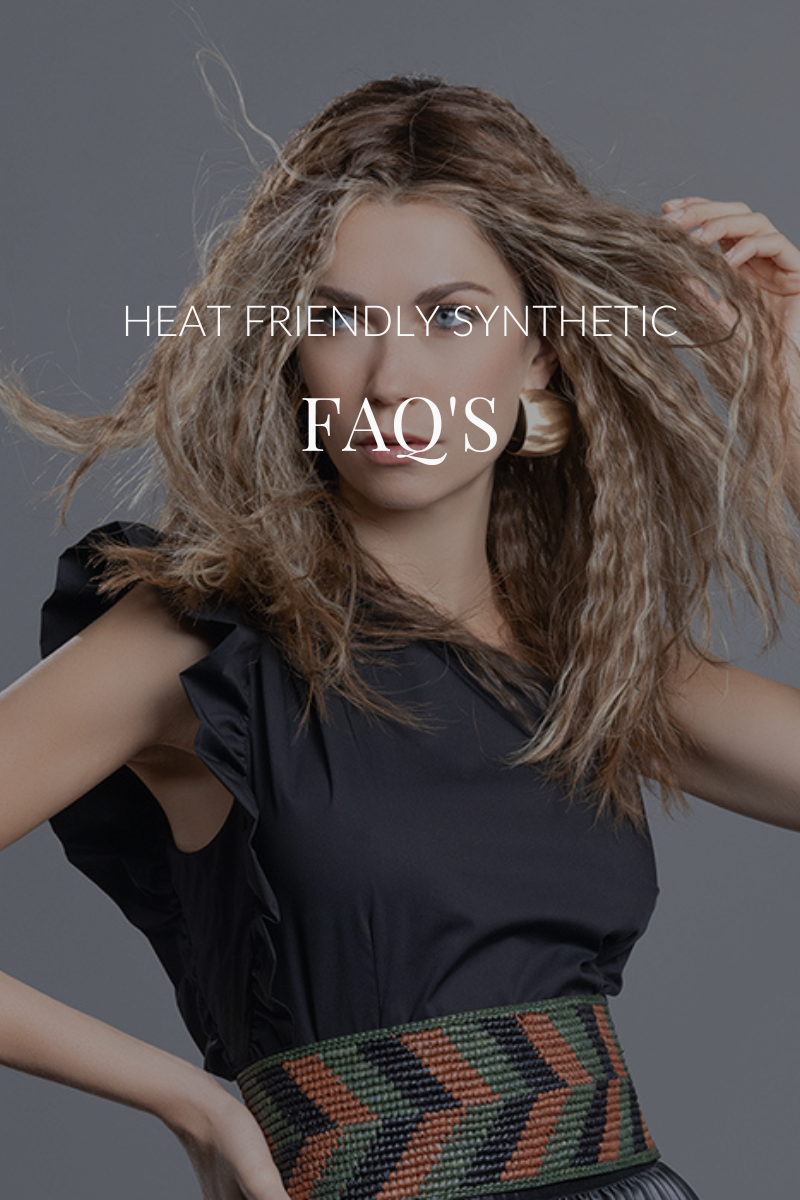 Heat Friendly Synthetic | FAQs
What is the benefit of heat friendly synthetic fiber?
This is a great option for wearers who like to change up their styles and are not quite ready to commit to human hair maintenance. There are several benefits to having heat friendly synthetic fiber. One being minimal maintenance. Also, in most cases, the denier of the fiber is thinner than some traditional synthetic fibers resulting in a more natural look and texture. The most noticeable benefit is that heat friendly fiber can be heat styled, so the styling options are unlimited with the additional feature of style memory.
What is style memory?
Style memory is a built-in feature with heat friendly synthetic fiber. This means that once the fiber is styled with a heating tool (flat iron, curling iron, wand, etc.) the new style will remain intact until heat is applied again. Water will not remove the style so your curls and waves will last through washes.
(Max heat recommended to use is 260F-280F)
How do I heat style heat friendly synthetic fiber?
Ellen Wille recommends heat styling this fiber in a wet condition. Take small controllable sections and lightly spray with water. Next, apply your professional grade heat styling tool using a max heat of 260F-280F. Allow the fiber to cool completely to lock in the style. If adding curls, be sure to clip the curl in place and then, allow it to cool before releasing the clips. 
How do I cleanse heat friendly synthetic and how often?
Ellen Wille recommends cleansing your heat friendly synthetic styles every 6-8 wears. Rinse under cool running water (do not submerge in a bowl or basin). Gently cleanse the fiber with BeautiMark Synthetic Care Line in a smooth downward motion and then rinse. Gently comb through with a wide tooth comb and place on a wig stand to dry. 
Click Here to Watch: How to Wash Heat Friendy Synthetic
What care products do I use for Heat Friendly Synthetic?
We recommend using BeautiMark Synthetic Care Products for your heat friendly synthetic fibers. 
BeautiMark Renew Shampoo
BeautiMark Leave In Conditioner
BeautiMark Smooth Detangler
View our website for more information on BeautiMark products https://www.ellenwille.com/collections/care-accessories 
How can I prevent tangling?
Prevent tangling by using BeautiMark Smooth Detangler and a wide tooth comb daily. Spray the Smooth Detangler as needed and gently remove tangles with the comb starting and the ends and working your way up.
Do I have to apply heat to heat friendly synthetic fiber?
Yes, heat friendly synthetic fiber tends to tangle over time. This is due to friction from the hair rubbing against clothes, chairs, neck, etc. Typically begins at the ends of the hair and creates a frizzy appearance and rough texture. You will need to apply heat periodically to remove this and keep the fiber smooth. Take small sections and lightly spray with water. Using a fine-tooth comb and a flat iron (max heat 260F-280F), Slowly guide the flat iron with the comb and smooth out the areas that are beginning to frizz. Allow to cool.
How long will my heat friendly wig/topper last me?
Depending on lifestyle, frequency of wear,  and care maintenance, heat friendly synthetic styles will typically last 4-6 months.