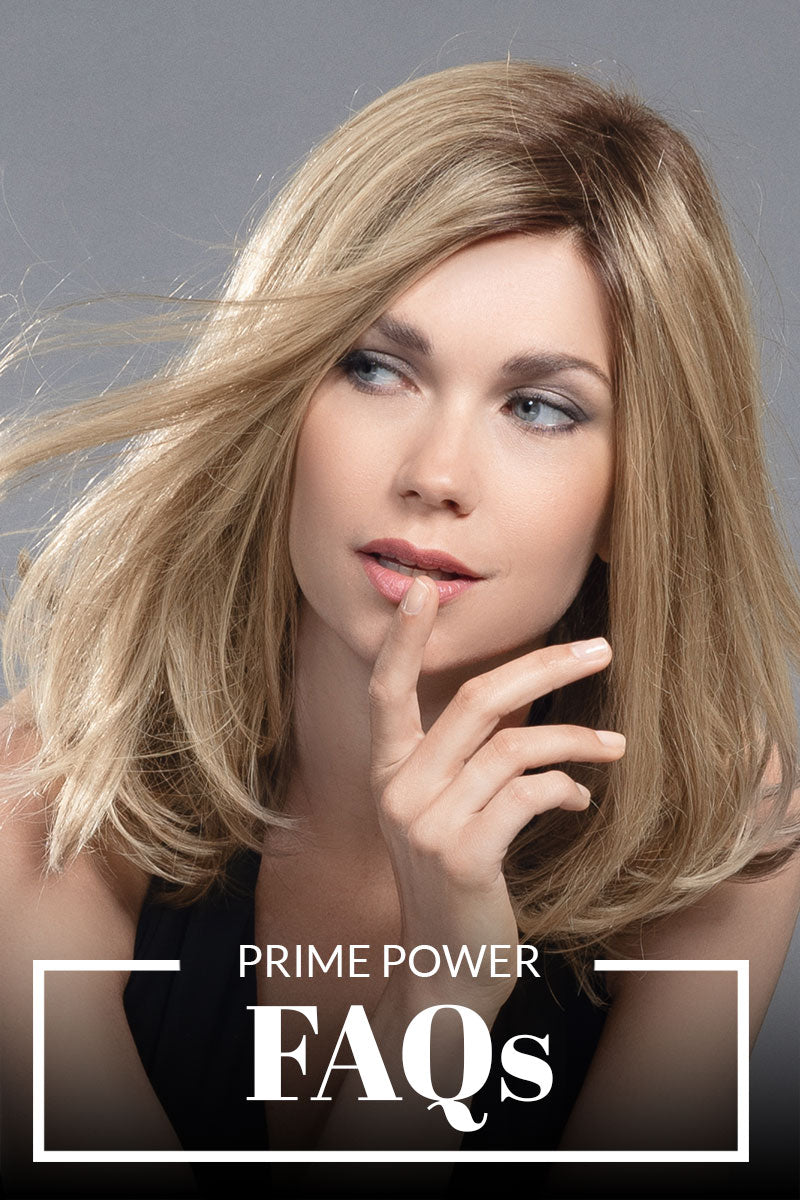 Prime Blend Fiber (Human Hair/ Heat Friendly Synthetic) FAQ
What is Ellen Wille Prime Blend? Prime Blends are a unique blend of fiber we offer that consists of human hair and heat friendly synthetic fiber. We off a whole collection of styles with this blend called the Prime Power Collection.
What are the benefits of Prime Blends? Prime Blends offer the best of both worlds, combining benefits from both human hair and heat friendly synthetic fibers. Human hair benefits such as natural texture, cool and lightweight, and style versatility. Heat Friendly Synthetic benefits include Style memory, non reactant to environmental elements such as humidity, vibrant color options, thin denier for a natural feel and appearance. Combined together, the Prime Blends act as a bridge between synthetic and human hair options.
What is style memory? Style memory is a built-in feature with heat friendly synthetic fiber which is found in the Prime Blends. This means that once the fiber is styled with a heating tool (flat iron, curling iron, wand, etc.) the new style will remain intact until heat is applied again. Water will not remove the style so your curls and waves will last through washes. (Max heat recommended to use is 300F)
How much Human Hair is in the Prime Blends? Our Prime Blends are generally  made up of a 60/40 blend. 60% Heat Friendly Synthetic Fiber and 40% Human Hair. Some of the grey colors may have a higher % of Heat friendly Synthetic Fibers.
How do I heat style Prime Blends? Ellen Wille recommends heat styling this blend in a dry condition. Take small controllable sections and apply your professional grade heat styling tool using a max heat of 300F. Use BeautiMark 3-in-1 Miracle Protect Spray to act as a heat protector for your hair. Allow the fiber to cool completely to lock in the style. If adding curls, be sure to clip the curl in place and then, allow it to cool before releasing the clips. 
How do I cleanse Prime Blends and how often? Ellen Wille recommends cleansing your Prime Blend styles every 6-8 wears. Rinse under lukewarm running water (do not submerge in a bowl or basin). Gently cleanse the fiber with BeautiMark Pure Care Hydrating Shampoo in a smooth downward motion and then rinse. Apply BeautiMark Pure Care Intensive Recovery Conditioner to the ends and allow it to sit for 2-3 minutes. Rinse with warm water, gently towel blot dry and place on a wig stand to dry.
What care products do I use for Prime Blends? We recommend using BeautiMark Pure Care Line to care for Ellen Wille Prime Blends
BeautiMark Pure Care Hydrating Shampoo
BeautiMark Pure Care Intensive Recovery Conditioner
BeautiMark Pure Care 3-in-1 Miracle Protect
BeautiMark Pure Care Luster Serum
View our website for more information on BeautiMark products https://www.ellenwille.com/collections/care-accessories 
Can I Blow Dry Prime Blends? Yes, however, it is not required. You can still blow dry your Prime Blend Styles on medium heat. 
Do Prime Blends tangle easily? Prime Blends tangle far less than traditional Heat Friendly Synthetic Fibers. The human hair that is blended within this fiber helps to prevent the excessive tangling. We still recommend combing and detangle throughout the day with a wide tooth comb or a soft paddle brush.
Do I have to apply heat to Prime Blends? Yes, heat styling  periodically will keep your Prime Blend soft and smooth. We recommend a max heat of 300F for this blend.
How long will a Prime Blend style last? Depending on lifestyle, frequency of wear, and care maintenance, Prime Blends will typically last 9-12 months.
Can I chemically alter the color on my Prime Blends? No, we do not recommend chemically altering the color for Prime Blends. Synthetic fibers do not react the same and both the human hair and synthetic fiber in the Prime Blends contain textile dyes that do not provide predictable results.