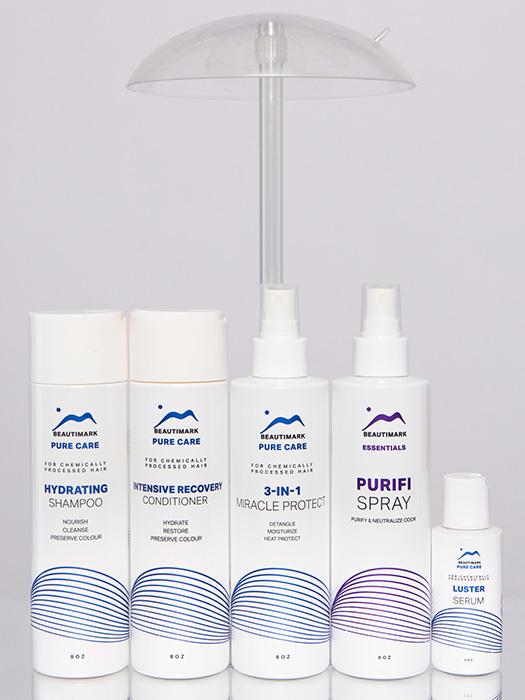 6pc Pure Care Human Hair Must Haves Kit
6pc Human Hair Must Haves by BeautiMark has been expertly curated to set you up for success when caring for your human hair wigs, hair toppers, and hair pieces. The BeautiMark Pure Care Collection was formulated to treat and protect chemically processed human hair with safe and effective ingredients to naturally nourish and hydrate. Adding luster and moisture to hair while not weighing it down is the magic in the Pure Care products!
Equipped with an adjustable wig stand  and purifying spray, this kit is a must have for all wearable human hair products - Also gives amazing results to your own bio hair!
All care products are FREE of toxic glycols, sulfates, phthalates, parabens, DEAs, artificial dyes and fragrances. Scented with all natural essential oils, these products will leave an amazing scent behind that perfectly accents your silky, lustrous hair.
6pc Human Hair Must Haves Kit Includes:
1 - 8oz. Hydrating Shampoo
1 - 8oz. Intensive Recovery Conditioner
1 - 8oz. 3-in-1 Miracle Protect
1 - 2oz. Luster Serum
1 - 8oz. Purifi Spray
1 - Acrylic Wig Stand
| | |
| --- | --- |
| SKU | BMP6PCHH |
| PRODUCT TYPE | Care & Styling |
| COLLECTION | Pure Care - Human Hair Care |
Hair Colors
Color shows up slightly different based on hair fiber or style. Each color swatch or photo shown can vary from screen to screen as well as color batch of the hair style you choose. These swatches are designed to give you a good idea of the color but may vary from wig to wig.